VR
Latest VR & AR Developments 2023
The Virtual Reality market is witnessing significant developments that are set to revolutionize the way we interact with digital content.
In this blog article, we will explore the latest updates in the VR industry, covering topics such as Apple's entry into the VR world, global initiatives, and the influence of AI-driven advancements.
Apple News: Big AR & VR Market News
As you have probably heard, Apple has finally unveiled its first AR/VR headset, the Apple Vision Pro. Since 2015, when Apple bought Munich-based Augmented Reality start-up Metaio (which today serves as the foundation of AR on the iPhone), they have invested heavily in VR & AR technology.
This new device perfectly merges Augmented and Virtual Reality into what is known as "Mixed Reality", so you don't have to block out the real world as you do with traditional VR headsets. Instead, the spatial computing interface augments the real world. This is achieved by combining aspects of artificial intelligence, human-computer interaction, and super-high-resolution "pass-through" (seeing the world through cameras). Users control it with gestures and their voices.
Living 3D Space
This development is huge, as with Vision Pro's spatial computing, the internet is further evolving from the constraints of 2D screens into a living 3D space. Also, the headset gives clients another boost in confidence as Apple is renowned for its privacy features and IT integration.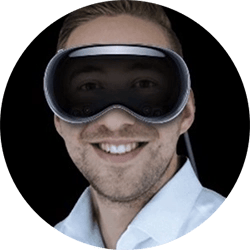 We are thrilled about this breakthrough technology that catapults us into an era where immersion in the digital world is not just a notion, but a lived reality. Of course, our VR / AR platform 3spin Learning will support the Apple Vision Pro and, as you can see below, we can't wait.
No, our co-founder Thomas doesn't have a Vision Pro at home yet, so he is sticking with this mockup for now 😉
AI-driven Advancements
As we saw with ChatGPT, AI is the driving force for revolutionary developments.
In the same way, AI is driving AR and VR training thanks to generative natural voices, 3D models, and text prompt instructions. We already worked on this with our Helper Companion, so stay tuned for more info.
NVIDIA CEO Jensen Huang announced in March 2023 NVIDIA's partnership with Microsoft to connect hundreds of millions of Microsoft 365 and Azure users to a platform for building and operating hyper-realistic virtual worlds. As 3spin Learning is a Microsoft Mixed Reality Partner and our product runs on the Microsoft Azure cloud we will benefit from these developments.
Telecom giant AT&T uses NVIDIA AI to efficiently process data and is testing Omniverse ACE and the Tokkio AI avatar workflow to build, customize and deploy virtual assistants for customer service and its employee help desk.
As Huang puts it: "We really are helping the world do the impossible together." What exciting times we live in, don't we?
Global Initiatives
An increasing number of organizations push into Virtual Reality, and at the World Economic Forum 2023, VR was the main topic of discussion. According to Time Magazine, the WEF was unveiling a working prototype of its Global Collaboration Village within the Metaverse, where partners such as Meta and the IMF showcase their projects.
Promising Developments in China
China released its first action plan dedicated to VR, with an aim for its industry to ship more than 25 million devices with a value exceeding 350 billion yuan ($48.20 billion) by 2026.
UEA develops a strategy to become a VR major player, announcing the official launch of Dubai's Metaverse Strategy, clearly stating the city's aim to make a big leap in turning it into one of the top 10 global metaverse economies.
EU's Metaverse Initiative
The EU presented an initiative to address the metaverse and all its activities and interactions in 2023. The proposal, which was qualified as key in the State of the Union letter of intent authored by Ursula von der Leyen, President of the European Commission, will present several initiatives to clarify Europe's rules and expectations for the metaverse.
We can't wait for this and certainly are more than ready!
VR & AR Interview Series
This Is how Lufthansa Cargo Reduced Their Examination Failure Rate By 80% With AR Training