LMS
How To Choose An LMS Platform That Perfectly Fits Your Needs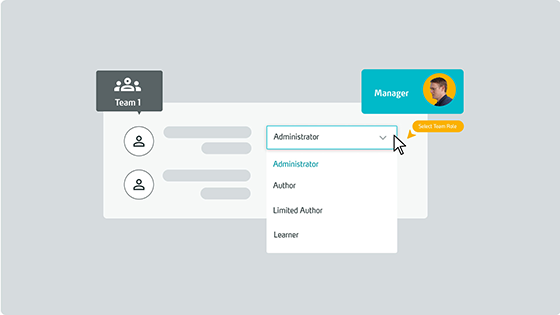 Are you looking for the right Learning Management System platform that will best suit your organization's needs? In this article, we'll be discussing essential factors that will help guide you in choosing the perfect LMS platform for your organization's learning and training objectives.
In today's modern age, technology has completely revolutionized the way we learn and acquire knowledge. Learning Management Systems have become an essential part of educational institutions, businesses, and organizations. With the help of a training management software, it has become easier to manage and deliver educational content, training courses, and other learning materials.
However, choosing the right LMS platform can be a daunting task for many industry professionals. In this article, we will discuss how to choose an LMS platform that perfectly fits your needs. We'll be covering key features to consider, as well as important questions to ask when selecting an LMS platform that fits your specific requirements.
LMS Platform Goals
The main goal of an Learning Management Platformis to make the learning process easier and more efficient. An LMS helps to streamline the process of managing and delivering learning content, tracking progress, and assessing performance.
The platform allows educators and trainers to create, manage, and deliver content that is accessible to learners through a user-friendly interface. An LMS also enables learners to access training materials at any time, from anywhere, and on any device.
Types Of LMS
Before choosing an LMS platform, it's important to understand the different types available. The most common types of LMS are cloud-based and open-source.
Cloud-Based LMS: This type of training management software is hosted on a cloud server and can be accessed through the internet. Cloud-based LMS platforms are typically user-friendly, require minimal setup, and offer a wide range of features. They also come with a monthly or yearly subscription fee.
Open-Source LMS: This type of LMS is open-source software that is available for free. An open-source Learning Management Platform is highly customizable, and users have access to the source code. However, it requires a high level of technical expertise to install, customize and maintain.
Step-by-step Guide To Finding The Best LMS Platform
1: Identify Your Organization's Training Needs
Before selecting an LMS platform, determine what kind of training you want to provide and to whom. Identify what skills and knowledge you want to develop, and the audience you want to target.
Once you have identified your training requirements, establish a budget that aligns with your organization's financial goals. This will help you narrow down your options and focus on LMS platforms that fit your budget.
3: Research Different LMS Platforms
Research different training management software that match your requirements and budget. Look for reviews and case studies of organizations that have used the platforms to get an idea of their capabilities.
Evaluate the features of each LMS platform you are considering. Look for features that align with your training requirements and check if they offer customization options. Think about features like reporting, tracking, mobile accessibility, and integrations.
Choose an LMS platform that is easy to use and intuitive. Ensure that the platform is user-friendly and can be easily navigated by your learners and training administrators.
6: Check Customer Support
Check the customer support options offered by the LMS platform provider. Ensure that they offer adequate support through multiple channels, such as phone, email, or chat.
Request a demo of the LMS platform to get an idea of how it works and to see if it aligns with your training requirements. Ensure that the demo includes all the features you are looking for.
8: Choose The Right Learning Management Platform
Once you have evaluated all the options, choose the LMS platform that best fits your organization's needs and budget.
By the way, VR authoring platforms like 3spin Learning help you create VR training without having to do any programming.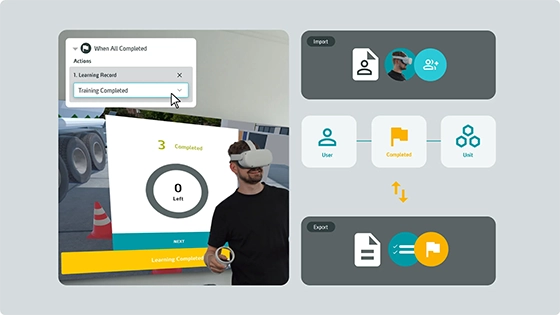 LMS Integration
Factors To Consider When Choosing An LMS Platform
Choosing the right Learning Management Platform can be challenging. Here are some factors to consider when selecting an LMS platform:
The LMS platform should have a user-friendly interface that is easy to navigate for both learners and trainers. The platform should be intuitive, with clear instructions and easy-to-use features.
The LMS platform should allow for customization, allowing you to add your branding, create custom themes, and personalize the user experience.
The LMS platform should be mobile-friendly, allowing learners to access content on any device, including smartphones and tablets.
The LMS platform should have robust security features to protect the sensitive information of learners and trainers.
The LMS platform should offer excellent technical support to ensure that any issues are resolved quickly and efficiently.
The LMS app should be scalable, allowing for expansion as your organization grows and your learning needs change.
Important LMS Platform Features
When choosing an Learning Management Platform, it's important to consider the features that are essential for your organization's learning needs:
Course Creation And Management: the LMS app should allow instructors:in to easily create and manage courses, including tools for interactive content creation, quizzes, assessments, and surveys.
Content Library: with a range of multimedia resources such as videos, images and documents to complement the learning experience.
Reports And Analytics: Tracking allows instructors:in to track learner progress and evaluate performance. This feature should provide a range of metrics, including completion rates, engagement levels, and assessment results.
Gamification: Gamifcation makes learning fun and engaging. This feature includes badges, points, and leaderboards to motivate learners and reward progress.
The Benefits Of VR-enabled LMS Platforms
Virtual Reality technology is revolutionizing the way organizations deliver training through LMS app. By incorporating VR technology into anLearning Management Platform,
learners can have immersive and interactive learning experiences that simulate real-life scenarios, boosting engagement and retention rates. With VR-enabled LMS platforms, learners can train in a safe and controlled environment, reducing the risk of accidents or injuries.
Additionally, VR technology enables organizations to provide remote access to training, allowing learners to access training material from anywhere at any time, making it a cost-effective solution for organizations. Incorporating VR technology into an LMS offers a wide range of benefits that enhance the overall training experience and improve the effectiveness of the training program.
Bottom Line
In conclusion, selecting the right LMS platform can be a daunting task, but by following the above steps, you can narrow down your options and choose the perfect platform for your organization. VR technology is making this process easier by offering immersive and interactive learning experiences that boost engagement and retention rates.
VR-enabled LMS platforms offer a wide range of benefits, including remote access, scalability, and cost-effectiveness. As the demand for remote and flexible learning grows, investing in an training management software that incorporates VR technology is becoming increasingly popular and necessary. With the right LMS platform, your organization can provide effective and engaging training that enhances skills and knowledge while achieving your learning objectives.